Preparing your lawn for summer sounds like a daunting task, but it doesn't have to be. By taking the time to complete three simple steps, you will be on your way to a luscious lawn in no time.
But before we get into the "how," let's talk about why you should make time to prepare your yard for summer. From dry spells to rising temperatures, summer can wreak havoc on your grass and landscaping without proper preparations. Your soil will also need some attention. You'll want to make sure that it has all of the necessary nutrients it needs for a thick healthy lawn.
So, let's take a minute to go over a few simple things you can do to prepare your lawn for summer.
Aerate Your Lawn
You'll want to aerate your lawn when your grass is in its peak growing period. This allows it to recover quickly. Early spring or fall are great times to aerate for cool-season grasses. These include:
Kentucky Bluegrass
Perennial Ryegrass
Fine Fescue
Tall Fescue
When cool-season grasses "wake up" in the spring, they enter a natural growth cycle when the root system begins growing and building carbohydrate (energy) reserves.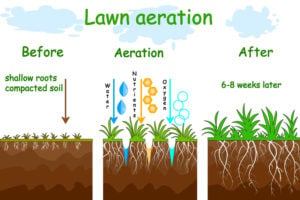 And keep this in mind. If you have high-traffic areas or heavy clay soil, you will want to aerate every year.
Apply Fertilizer
After a harsh Michigan winter, fertilizing your lawn in early spring is a must. Applying a treatment of fertilization is necessary to help your tired lawn recover from the long, cold winter.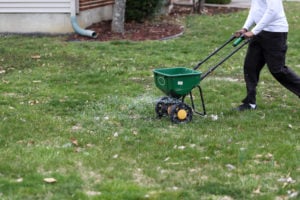 Fertilizer gives your lawn the strength it needs to grow thicker and greener.
Apply Pre-emergent
Prevention is always the best medicine. And when it comes to your lawn, applying a pre-emergent is good advice. A pre-emergent is a type of herbicide that prevents weed seeds from germinating. Applying this treatment early in the spring gives it a chance to be watered into the soil with the spring rains. The good news it will remain active in the soil for several months. Pre-emergents effectively prevent crabgrass germination later in summer, helping keep your lawn looking its best.
A Little Prep Work Goes A Long Way
The secret to keeping your yard thriving throughout the summer lies in the lawn care techniques you implement during the spring. By getting started early in the year, you'll develop a resilient lawn that's resistant to the effects of the sun, weeds, pests, and heavy foot traffic.
But if you're tired of a less than perfect lawn and don't feel like you can keep up with the maintenance on your own, let us know. The team at Lush Lawn is ready to help.
If you're interested in our professional aeration, fertilization, or other lawn care services, you can use our convenient online calculator to get a free quote — it's that simple!