Winter shrub protection may not be on your list of things to do before the snow starts flying each year, but it should be. Heavy snow, freezing temperatures, and cold blowing winds can wreak havoc on your woody plants. The good news is that there are some simple steps you can take to protect your shrubs all winter long.
A shrub (often called a bush) is a small- to medium-sized perennial woody plant. Unlike herbaceous plants, shrubs have persistent woody stems above the ground and can be deciduous (ones with flower buds) or evergreen. It's their size that can make them more vulnerable to winter damage. Trees can typically take a little more punishment in the winter.
So, let's take a look at a few things you can do to create a great winter shrub protection strategy for your yard.
Planting
One way to decrease the risk of cold damage is by planting shrubs that are native to Michigan like ninebark and viburnums. When selecting shrubs, trees, and other plants, check the Michigan hardiness zone map developed by the USDA. It divides growing zones into 10-degree F. (-12 C.) increments according to average winter low temperatures over a 30-year period.
Basing your shrub choices on where you live in the state will help you to pick the best possible shrubs for your location.
Watering Before Winter
Water shrubs deeply in fall, while soil temperatures are still warm. This is especially important to do if moisture has been scarce during the growing season. That water loss can hurt landscape plants during the winter months.
For example, winter sun and wind cause the foliage of evergreen shrubs to lose moisture that is not replaced while the roots are frozen. But Alberta and Serbian spruce, hemlock, yew and arborvitae, and broadleaf evergreens, such as boxwood and rhododendrons are all susceptible.
Supplemental water will encourage strong root growth, which is the foundation of a strong, healthy plant, even after the stems have gone dormant. Try to apply enough water to moisten the soil 8 to 10 inches below the surface once a week until the ground freezes.
Make Sure You Mulch
This favorite spring pastime is something you may want to consider late in the fall. It will not only encourage root growth, but a layer of mulch can help protect your shrub's root zone from frost penetration into the ground and extreme cold.
And if you have newly planted shrubs (and trees), you should consider adding another 1-3 inches of mulch through the winter. This will give the roots a little added protection from the cold temperatures. You can remove the extra mulch layer in spring when growth resumes.
Burlap Screens For Better Protection
In this case, you may want to call them "brrrrrrrrrlap screens," but all kidding aside, a burlap screen offers great winter shrub protection.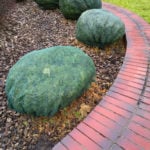 A well-constructed burlap screen will not only help protect plants from winter winds but also those subject to salt spray from passing traffic. Simply wrap the screen around the potentially affected areas and secure it into place with a few garden stakes and bread ties.
Safari Tree Can Help
Another way to make sure you're providing the best winter shrub protection each year is by partnering with Safari Tree. Our 7-step tree healthcare program is designed for Michigan's four-season climate. This care program gives you the maintenance that will allow your trees to flourish all year long.
Contact us today to learn more about it.