When biologically active microorganisms are present in your soil, they help break down organic matter and replenish your soil with nutrients to improve its quality and structure. This helps plants and grass grow stronger and taller while warding off the potential for disease and pest infestations.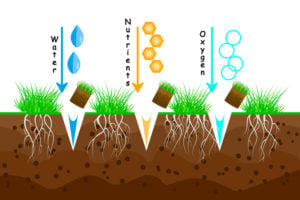 Soil microorganisms can be grouped into bacteria, actinomycetes, fungi, algae, protozoa, and nematodes. Apart from the dead plant or animal residues in soils, soil organic matter is composed of a significant amount of living microorganisms and their dead fractions.
But your plants and grass can't thrive on microbial activity alone. So, let's take a look at some of the reasons soil microorganisms are important for plant health and fertilization's role in making this happen.
The Importance of Soil Microorganisms
They play an essential role in decomposing organic matter, cycling nutrients, and fertilizing your soil. They also help make up and produce soil organic carbon, which locks carbon into the soil for long periods of time and improves your soil's fertility and water-retaining capacity.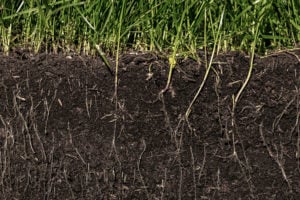 Microbes are also important for the development of a healthy soil structure. They cement soil aggregates, which keep your soil from crumbling when exposed to water. And fungal filaments are like threads that surround the aggregates like a hairnet — holding it together.
Fungi can also be harnessed to draw carbon out of the atmosphere and sequester it in the soil. Bacteria and fungi are decomposers, so soil microorganisms may provide a way to reduce atmospheric greenhouse gasses and help to limit the impact of greenhouse gas-induced climate change.
How To Keep Your Soil Microorganisms Healthy
Beneficial soil microbes are living organisms. And like most living organisms, they need a few things to live, including:
Air
Water
Correct soil chemistry for growth
Food
Without all of these critical elements in your soil, your plants and grass would not be able to survive and grow.
How To Help Your Soil
But there are ways to ensure your soil microorganisms are getting all of the nutrients they need, and you don't need to know a lot about soil science, just the basics. They include:
Aeration
Core aeration opens your soil, allowing more air and water to reach the roots. This is especially important if your soil is compacted. Soil aeration can enhance the activities of the three rhizosphere soil enzymes. The plant rhizosphere is the soil nearest to the plant root system where roots release large quantities of metabolites from living root hairs or fibrous root systems. This aids plant growth.
Balance pH Level
Most beneficial bacteria thrive best in neutral to near-neutral pH (6.5 – 8), but some thrive in very acid conditions and some can even tolerate a pH as low as 1.0.
Watering Deeply
Your soil's health and watering go hand in hand. Deeply watering (at least an inch and a half) gets moisture deeper into your soil and keeps the microbial communities happy. Soil with higher moisture content also tends to have a higher CO2 release.
Soil Temperature
The hottest part of the summer is the busiest time for microbes. Soil microbes thrive most in 70- to 90-degree temperatures. The soil temperature alters the rate of organic matter decomposition and mineralization of different organic materials. It also affects soil water content, its conductivity, and availability to plants.
Available Carbon
Shed roots, decomposing organisms, clippings, and fallen leaves provide the majority of accessible carbon to soil bacteria. The topsoil has the highest concentration of organic carbon in the soil. For most highland soils, topsoil contains between 0.5 and 3.0 percent organic carbon. Deserts are home to soils with less than 0.5 percent organic carbon. Organic soils are those that have a high percentage of organic carbon, usually between 12 and 18 percent. Because carbon is a microorganism's major source of energy, adding compost to your garden can help. Microorganisms require a lot of organic matter to survive. The same goes for mulching.
Mycorrhizal Fungi
Up to this point, we've been talking a lot about soil bacteria. You'll need an ample level in your solid because this fungus attaches directly to the roots and funnels nutrients to them. It is often lacking, especially on a newer lawn where the soil is not good. You can actually buy mycorrhizal fungi and apply them to your soil. It comes in gel form as a bare root dip, made into a liquid for soil injection. It can also be applied as a soil drench.
Didn't know there was so much going on in your soil, did you? The fact is, all of these elements are working together. To keep grass and plant diseases at bay, they all should be functioning at optimum levels.
Your Fertilizer's Role
Fertilization is an important part of what attracts beneficial microbes in the first place. When you think about fertilizer applications, you probably connect those nutrients to improved plant growth. But these nutrients are available to all organisms in the soil system, including the microbes.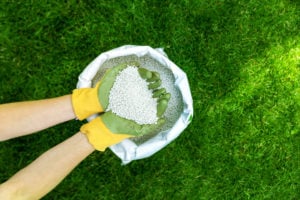 One study found that manure increased soil organic carbon for all the measured soil depths compared to inorganic fertilizer and control treatments. Remember, more carbon means better soil structure. The study also found manure significantly increased total nitrogen compared to fertilizer treatments.
Lush Lawn Can Help
It's important to apply the right amount of fertilizer to your lawn or plants. Overusing chemical fertilizers can actually decrease organic matter in the soil.
At Lush Lawn, we are proud to help Southeast Michigan homeowners keep their lawns thriving.
Our services include:
Lawn health evaluation and diagnosis
Treatment programs for soil health
Aeration to break up compacted soil
It's a three-step process for optimum soil health.
Lawn Health Evaluation
One health issue with your lawn can snowball into myriad problems. Our experts will diagnose your lawn to ensure your soil is providing all of the nutrients it needs.
Soil Health Treatments
Our soil health treatment programs include:
Soil Sweetener Program that's designed to balance the pH level of your soil.
Soil Fertility Program that increases specific nutrient levels in your soil.
Soil Balancer Program can help to bring soil pH levels down (if needed).
Once your soil is tested we'll be able to determine which of our soil treatment programs is best suited to the lawn care needs of your property.
Core Aeration Services
We use our state-of-the-art equipment to ensure optimal results. Our core aeration services will give your lawn the room it needs to absorb nutrients and eliminate areas of standing water that can lead to lawn diseases and attract mosquitos.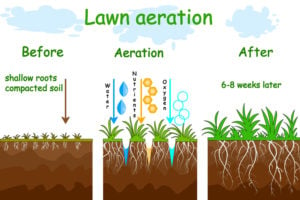 We recommend at least one core aeration service in the spring or fall, and even better if you're able to aerate twice per season.
Want to make sure your lawn is ready for summer? Request a free quote today.